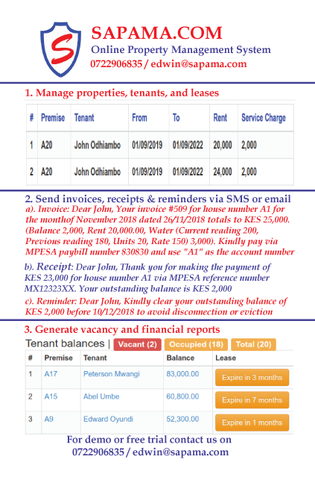 Sapama.com is the world's most comprehensive cloud-based Online, Web-based Property Management Platform that is designed by and for property managers. It bring together property managers, landlords and tenants in one space to streamline, automate and simplify property management processes based on industry best practices.
In the spirit of information sharing in the real estate industry, Sapama.com is focused on empowering users with relevant, reliable and accurate information they need to make smart decisions about homes, real estate and mortgages. Its mission is to build the most vibrant and valuable marketplace in the real estate industry. The website is transforming the way consumers make home-related decisions and connect with professionals.
Sapama.com enables you to;
raise service charge invoices
raise water bills based on previous and current readings
send invoices and receipts and reminders via SMS or email
record payments and issue a receipt
integrate to M-PESA so that payments made via your Paybill automatically reflect in the system
generate tenant statements of accounts
manage suppliers and record payments made to suppliers
generate management and financial reports

Keep a record of tenants lease agreement and configure rent escalation
Manage and record your tenants bio-data
Get notified when a lease is about to expire
FEATURES
1. Lease Management
track when the lease is starting and ending
setup the amount of rent, service charge, water, electricity, garbage and any other bill payable
setup escalations
2. Tenant Relationship Management
Record all communication and correspondence with tenants in one place
Qualify your leads and close more sales
Track, delegate and resolve tenant complaints and tickets resulting in better customer service
3. Automated billing
Automate sending of branded rent and service charge invoices via SMS or email, thus reducing printing cost
Automatically calculate variable bills such as water based on the current andprevious readings and unit rate
Automatically charge penalty on a certain date either a percentage or fixed amount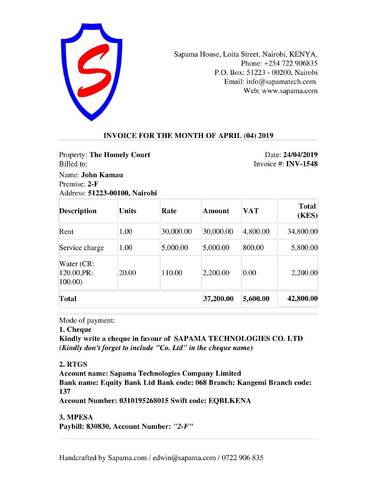 4. Real-time payment collection
Integrates to Mobile Money (MPESA, Equitel) and major banks for instant payment notification
Reduce reconciliation time
Thank customers via SMS or email on payment reception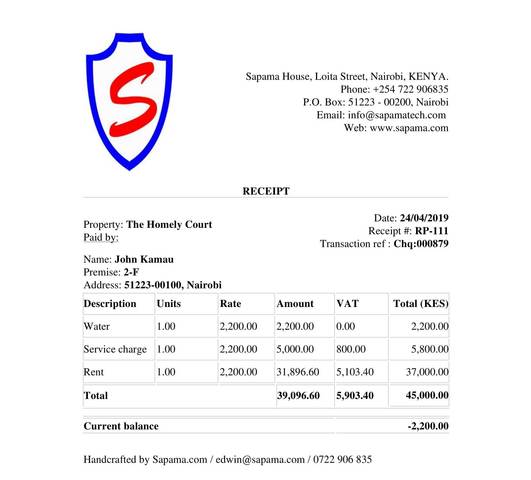 5. SMS or email invoices, receipts and reminders
Automate sending payment reminders via SMS or email thus collecting your money in time
Allow tenants to login and view their profile
Tenants can generate, view and download their statement of accounts at any time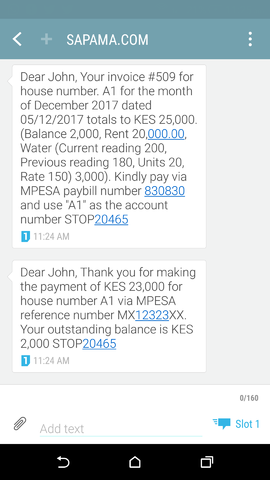 6. Tenant portal
7. Landlord portal
Landlords can login and view their profile
Landlords can generate, view and download financial statements
8. Expense Management
Record expenses incurred in managing the property
Group expenses such as security, repairs or garbage collection
Include expenses in financial reports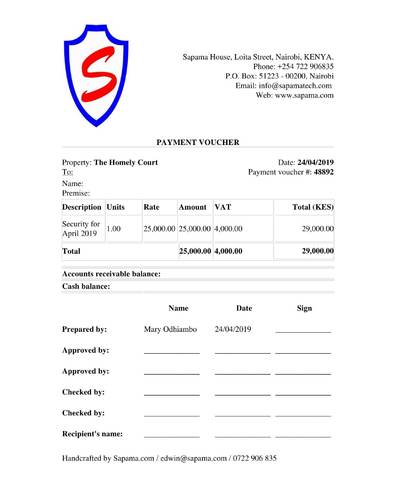 9. Financial reporting
Comply with International Financial Reporting Standards (IFRS)
Generate, view and download accurate and update to date financial reports (Landlord reports, Income Statement, general Ledgers, Cashflow Statements and Balance Sheet) that enable you understand the financial health and performance of your portfolio at any time

10. Document Management
Digitally save your records online and reduce paperwork on your desk
Keep a record of your tenants and landlords photos and scanned identification documents such as passports
Scan and upload receipts and cheques against payments for future referenceand easy audit
11. Role-based access
Different users can login and only perform actions that they are authorized to
View an audit trail of who did what, at what time, from which IP address and browser.