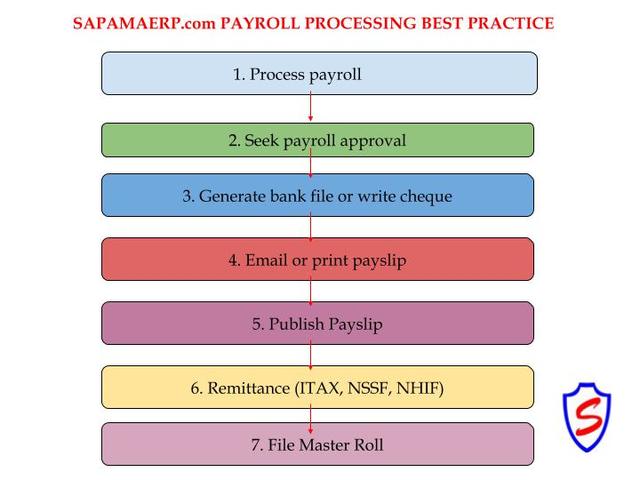 It's end month and the thought of calculating payroll reminds you of your month class.
Do you take a lot of time to do your payroll with Excel? What's your biggest challenge in doing your monthly payroll?
1. Is it complicated calculations?
2. the time it takes to do payroll on excel?
3. generating a payslips that you could send via email?
4. Or the many different reports you need to churn out?
If you struggle with any of these, I have good news for you.
Sapama, our online payroll system empowers you to process payroll for multiple staff, generate professional payslips branded with your logo, send payslips via email and download NSSF, NHIF, ITAX, P9 reports that are ready for submission.
It's the end of the month, your employees have worked hard through the month, are excited and eagerly awaiting their payslips and are happy but you are not, why? Because of the amount of time it takes to calculate their payroll!!
Worry no more! At the comfort of your desk and on a click of a button, Sapama Payroll software simplifies the task of computing your payroll.
Statutory deductions:
Currently, there are three statutory deductions that employers are required to deduct and remit on a monthly basis. They are NSSF, NHIF and PAYE.
PAYE is calculated based on a progressive bracket-based formula. Staff earning less than 15,000 are exempt from tax and the taxation percentage start from 10% to 30% depending on your basis salary.
NSSF is also calculated on a progressive scale from 6% to 12%
NHIF is the easiest and you pick an amount when where the salary falls.
Custom benefits and deductions:
In addition to statutory deductions, you might have custom deductions such as HELB or Welfare or penalties. Also, you might have other benefits such as commissions or bonuses that you need to include in the employee salary. Sapama enables you to configure and setup custom benefits and deductions at an individual level.
Loans management:
Sometimes you might advance loans or advance to your staff and a fixed amount is deducted from their salary. Sapama enables you to setup the loan or advance and the schedule of installment that will be deducted each month. Unlike other software, the beauty of Sapama is that after the loan has been fully repaid, Sapama will automatically stop deducting the instalment.
Batch processing:
After configuring all the benefits and deductions, Sapama enables you to compute payroll for multiple employees in a click of a button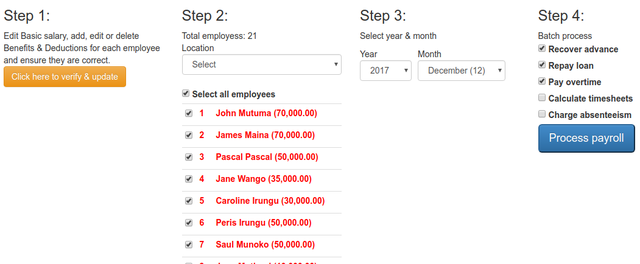 Corporate payslips:
You can generate good looking payslips branded with your corporate logo. Instead of printing the payslips, Sapama enables you to save money and time by enabling you to send the payslips to individual staff emails in batch on a click of a button.

Reports:
1. PAYE ITAX, NSSF, NHIF By-products:
Reports are very crucial in payroll processing. Sapama enables to download NSSF, NHIF,KRA ITAX PAYE, staff KRA P9 reports or by-products that are ready for submission. These by-products are in the required formats and you just login to NSSF, NHIF or ITAX portal and make the remittance without having to make any changes. This eliminates errors and saves time. This results in compliance and you are able to make the remittance in time to avoid penalties and fines.

2. Bank file:
Most banks require you to generate a certain file format with the account numbers and details and them you upload on their online portal. Sapama simplifies the process of making salary payments by enabling you download the exact format for all the Kenyan banks including KCB, Equity Bank, Barclays Bank, Family Bank, DTB Bank and Co-operative Bank

3. Master roll:
We know it's important for you to understand your total, summary and categorized payroll obligation for a given month. Sapama makes it easy to understand your payroll financial liability and compare with other months so as to identify any variance.
Easy integration
Sapama payroll is integrated directly with the rest of your accounting system so that all payrolls go directly into your books and you do not have to go back balancing the books once again.
What to enjoy this and more? Start your free trial today.