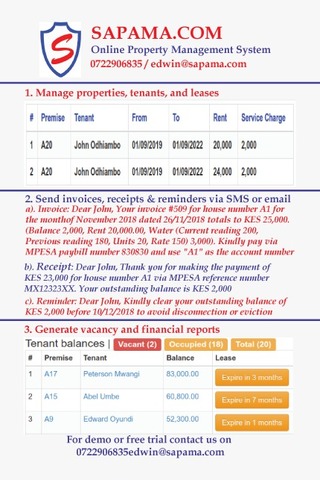 SAPAMA - Send customer the setup template for filling. Mention that the phone number is important for sending of SMSes
CLIENT - Fills the template and returns
SAPAMA - Upload the file on Google Drive in the Clients Folder
SAPAMA - Cleaning of the data
Ensure we have the following fields:
number - door or house number
floor - (floor) or block
from_date - the date when the lease is starting or the first date of the month
type - residential or commercial in small case
tenant_phone - primary tenant phone number that will be used to send smses
tenant_secondary_phone - tenant secondary phone number if any
tenant_email - primary tenant email address that will be used to send emails
tenant_secondary_email - tenant secondary email adddress if any
tenant_document_number - id or passport or certificate of incorporate
tenant_document_type - 1 if id, 2 if passport, 3 if certificate
landlord_name - the landlord's name if set or name of the property
Bills:
for bills like rent or service charge, water we need two columns prefixed by bill_ and payable_ and replace space with _
for fixed bills use the amount
for variables bills use the previous reading
eg
bill_rent - this is the amount of rent
payable_rent - this is the billing cycle eg 1 for months, 2 for 2 months, 3 for quarterly
bill_service_charge - this is the amount of service charge
payable_service_charge - this is the billing cycle eg 1 for months, 2 for 2 months, 3 for quarterly
Balance
for balance we need one column prefixed by balance_
if arrears, it should be positive
if overpayment is should be negative
eg balance_rent, balance_service_charge
5. Save a new file as .csv and the file name should not be numbers use alphabets
6. Login to the demo account, go to "Premises", click "Import" and upload the file: info@mbagi.co.ke / mbagi123
7. If everything is uploaded, login to the customer account and upload.