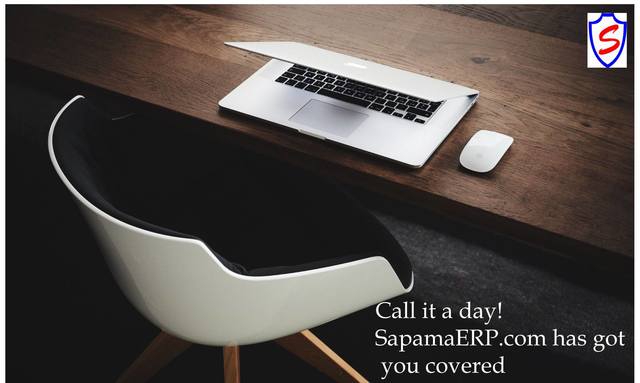 NHIF stand for National Hospital Insurance Fund. It is one of the top government corporations offering health insurance service to Kenyans who have attained the legal age of 18 years and even those below as beneficiaries.The corporation offers reliable, affordable, accessible and quality health insurance cover Kenyans. NHIF is aptly committed to ensure clients get sustainable services through a reliable timely customer care services.
Benefits Package of NHIF
As an enrolled member of NHIF, one is able to enjoy the following benefits:
In -Patient Cover-this applies for someone admitted in hospital(one can access any medical facility for in-patient services).It provides comprehensive medical cover in majority of over 400 accredited Government facilities, Mission health providers and some private health providers across the country. Provides in-patient and high cost hospitals on a co-payment basis.
NB:The services are provided as per the level of accredited facility and in accordance Clinical Guidelines for Management of Referral of Common illness Level 2-6(2009)
Out-Patient Cover-this applies for situations where a client obtains medical services without being admitted.Every member is required to choose one medical facility for outpatient services. The facility can be changed June and December every year.
NHIF ELIGIBILITY
Any person:
Has age of 18 years.(No age limit after the age of 18 years)

Whose total income from either salaried or self-employment is more than Ksh. 1,000 per month or Ksh.12,000 per year.

Drawing an income from Kenya

Working under contract or casual terms of employment

Voluntary contributors(includes foreign visitors permitted to work or study in Kenya)
NHIF REQUIREMENTS
The requirements differ depending on whether one is a Kenyan, foreign residents or foreign student.To register as a member, one is required to visit the nearest NHIF offices.
For a Kenyan citizens, the following is the requirements:
Copy of national ID(including spouse where applicable)

Copy of employer appointment(excludes self-employed/voluntary contributors)

Colored passport photo(including spouse and dependants where applicable)

Original and copies of Birth certificates of dependants
For foreign residents, the following is required:
Copies of passport, alien certificate or work permit(including spouse if applicable)

Coloured passport photo(including spouse & dependants if applicable)
For foreign students, the following is required:
Copy of passport

Coloured passport photo

Submit the required amount under the Voluntary/Self Employed category
Employers Requirements
As an employer, NHIF provides the capability to enable one to make contribution on behalf of employees
Certificate of Registration

PIN Certificate
Contributions & Deductions
NB:Contributions are made as per one's income
PAYMENT CLAIMS
Claims are submitted by hospitals directly to NHIF after the contributors have been discharged from the hospitals.The claims are examined by the fund to ensure validity before payment.
PENALTY FOR LATE PAYMENT(SELF-EMPLOYED/VOLUNTARY CONTRIBUTORS)
One is required to submit contribution by 9th of every month. Failure to this, one is charged a penalty fee.Going beyond any NHIF deadline attracts huge penalties which must be cleared for the insurance cover to remain valid.When an employer misses a payment, they are legally required to make double principal payments. For informal members, late payments attracts an extra fee of 50% the NHIF payment rates.
For instance, KEs. 250 on top of KEs .500 to make a total of KEs.750.
Making contribution via Mpesa
To submit one's monthly contribution, one can has two options:
Pay cash at any NHIF branch

Pay via MPesa paybill number
Follow the procedure below to make contribution via mpesa:
Go to Safaricom menu and select MPESA.

Choose the Pay Bill option.

For the M-pesa NHIF Pay bill number (business number), enter 200222.

Enter your contributor's National Identity Card Number.

Enter the amount to contribute.

M-PESA asks for your M-PESA PIN. Enter your Mpesa PIN and hit OK.

M-PESA gives you the confirmation screen. Carefully confirm that all the details are correct. Press OK to finish to pay NHIF via Mpesa.

You will receive an M-PESA Transaction confirmation SMS!
How do I check my NHIF Statement?
With any type of mobile phone do the following:
Compose a new sms

Type the letters "ID", a space, then your ID number (or passport number if applicable) e.g ID 12345678

Send to 21101
Note: Charge for this service is Kshs 10 only.
THE PROCEDURE:
Step 1: Login to SapamaERP.com, Go to "Payroll" Menu > Click on "Payslips" Search for the month>Click "Download">Click"NHIF" report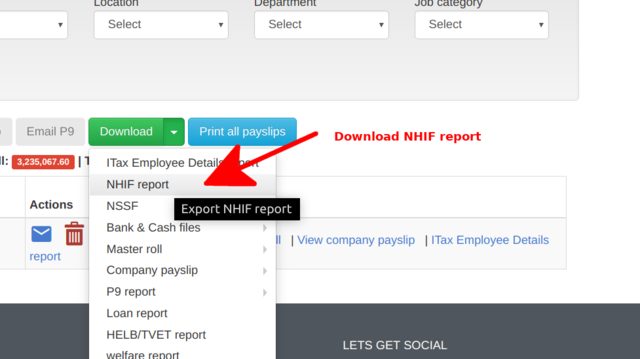 Step 2: Login to NHIF portal https://epayments.nhif.or.ke/selfservice/ and upload the by-product
Step 3: Generate payment slip for the NHIF just submitted
You need to generate a payment slip for the NHIF obligation. The payment slip is what you will use to make a payment for this liability at the bank.
Step 4: Pay the NHIF at any NHIF approved banks