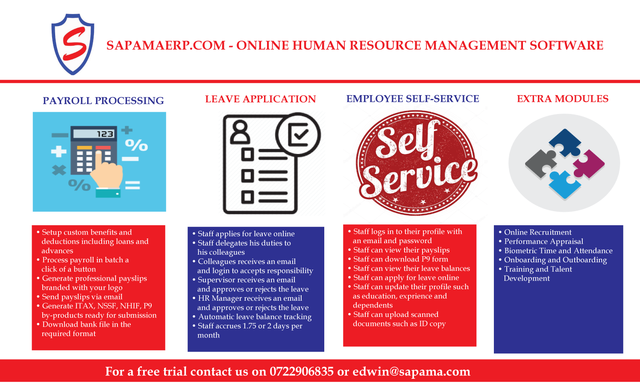 What is NSSF?
NSSF stands for National Social Security Fund. It is a government agency responsible for the collection and safekeeping, responsible investment and distribution of retirement funds of employees in both formal and informal sectors of Kenyan economy. Participation for both employers and employees is compulsory.
Registration as a National Social Security (NSSF) Member/Requirements
Registration to National Social Security Fund is easy and fast as people visit their nearest NSSF to register.
For the employed, one requires:
Original National Identity Card

Alien Card/Passport

Photocopies

Letter of introduction from your employer
You will be registered once your details are recorded and issued with a NSSF membership card with a unique number.
Members can also register online via the NSSF e-service at their website accessed at www.nssf.co.ke
REGISTER AN EMPLOYER WITH NATIONAL SOCIAL
As an employer, NSSF provides the capability for employers to make contributions on behalf of employees.
Documents required (3 copies of each)
Employer application form(download from NSSF website)

PIN certification

Certification of incorporation

City council certificate

National ID/Passport (for foreigners)
M-PESA CONTRIBUTION PROCEDURE
To make NSSF contribution via mpesa, follow these simple steps:
Go to M-Pesa menu

Select payment services

Select PAYBILL

Enter business number 333300

Enter account number(membership number in your card)

Enter the amount and your M-Pesa PIN,press ok.

M-Pesa send you a confirmation message.
NB: Applies to self-employed members who make contribution at any time of their choice
Monthly Contributions
Self-Employed/Voluntary Contributors
- Self employed shall make minimum contributions of Ksh. 200 per month.
Employee deductions
- 12% of the employee's total earnings.Out of this, employers shall remit 6% of their employees pensionable salary/wages and the employee is deducted 6%.
PENALTIES
Every NSSF member should submit the expected monthly contribution by 15th of every month. Late remits attracts 5% penalty
BENEFITS
Age / Retirement Benefit

Withdrawal Benefit

Survivors Benefit

Invalidity Benefit

Funeral Grant
THE PROCEDURE:
Step 1: Login to SapamaERP.com, Go to "Payroll" Menu > Click on "Payslips" Search for the month>Click "Download"> Click"NSSF" report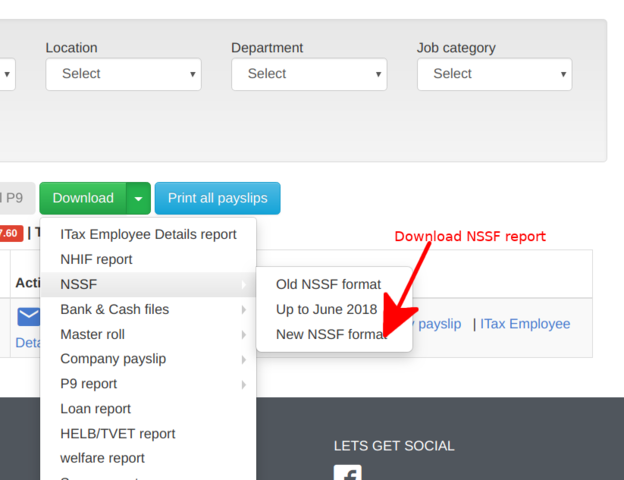 Step 2: Login to NSSF portal (http://selfservice.nssf.or.ke/) and upload the by-product
Step 3: Generate payment slip for the NSSF just submitted
You need to generate a payment slip for the NSSF contribution. The payment slip is what you will use to make a payment for this liability at the bank